Tutorial: How to Use the Pennsylvania Mine Map Atlas
Section 2: How to view, download, and highlight mine maps
The PA Mine Map Atlas allows you to view maps, download maps to your computer, and highlight maps so that you can see their exact location.
Viewing Maps
Use your mouse to make a single click on the map in your location of interest. This single click will open up the Mine Maps Found pop up window.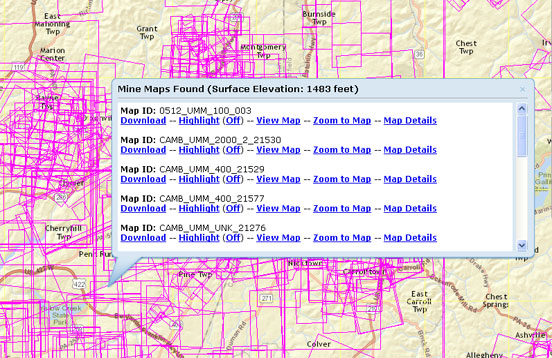 Mine Maps Found Pop Up Window
In the Mine Maps Found pop up window you can do the following:
1.
Download
2.
Highlight Your Map of Interest
3.
View Map
4.
Zoom to Map
5.
Map Details
. By clicking on Map Details, you will be taken to Phummis database. See Section 4 of this tutorial for more information.
NOTE: Some Maps are not available yet for viewing in the PA Mine Map Atlas, however, many of these can be downloaded. If a map is available for downloadng but not viewing, you will see the Download button highlighted.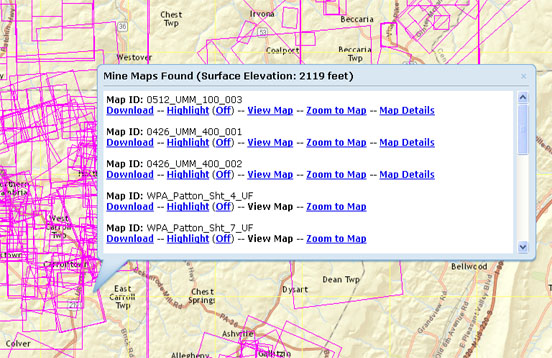 How to Download PA Mine Maps
To download a mine map just click on the area you are interested in and you will see the Mine Maps Found pop up window. Click on the word Download which is highlighted in the Mine Maps Found pop up box. You will then be prompted by your browser to save the file. NOTE: Each browser is different and may have a different download message. Save the mine map to the location of your choice on your computer.
NOTE: You will be downloading a Mine Map that is in Mr. Sid format. This format requires a special viewer. You can download the free ExpressView Browser Plug-in MrSid viewer to view the maps.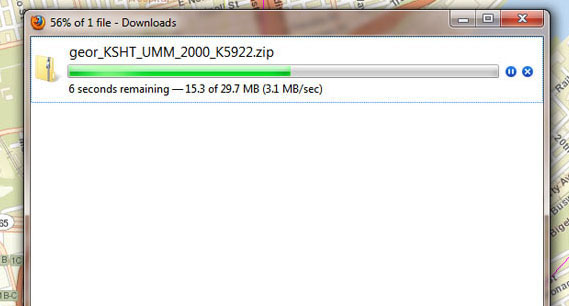 &nbsp &nbsp
Highlighting Mine Maps
Highlighting the mine maps allows you to see the extent of the map you are interested in. You can highlight the mine map (it is highlighted in yellow) you are interested in by clicking on the word Highlight in the Mine Maps Found pop up window. You can turn the highlight off by clicking on the word OFF.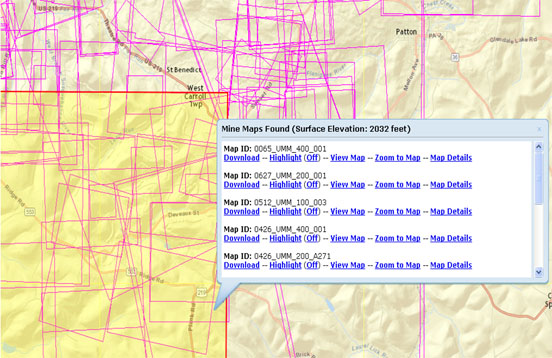 &nbsp &nbsp
Viewing Mine Maps
You can view a mine map by clicking on the words View Map in the Mine Maps Found pop up window. NOTE: The mine maps can be very large, please be patient. You can use your mouse to navigate around the map. Just click the map and hold as you move your mouse. In the example below, the mine map is on the left.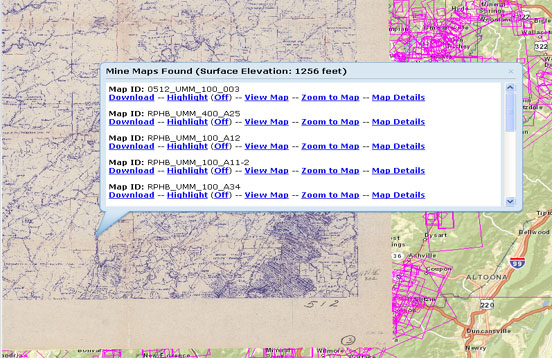 &nbsp &nbsp
Zoom in to a Map
You can zoom in to the extents of a mine map by clcking Zoom to Map.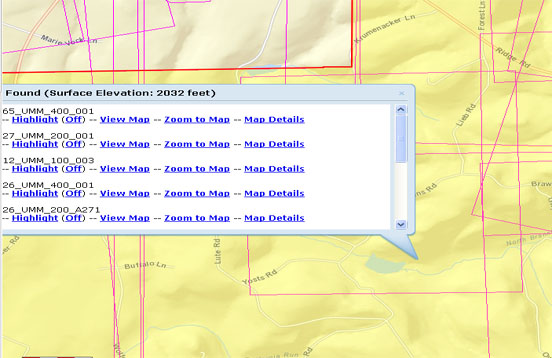 To go back to Section 1, How to Search for Mine Maps, click the Back button below.
To continue with the tutorial and learn about Advanced Tools, click the Continue button below.
&nbsp &nbsp

&nbsp &nbsp

&nbsp &nbsp